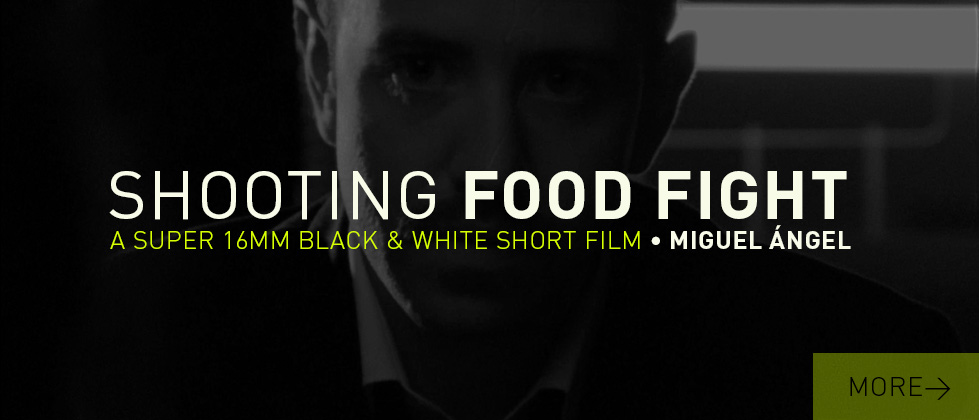 a Super 16mm black & white short film.

One week ago I got the final grading of a short – film I shot last December on Super 16mm before starting uni, Food Fight, and I thought that it could be interesting to share the whole process.

I met Food Fight's director, Natasha Waugh, while shooting a different project and as I had three cans of 16mm film stock at home that I was not going to use I asked her: Do you want to shoot something, maybe an experiment, with this? It has to be really short because we only have three cans!

After thinking about it, she came up with a short story about two food critics that get reunited in a restaurant and start talking about what happened in their previous date.
Pre – production…
Natasha wanted a 40′s / 50′s style and we decided that Black & White with a lot of contrast could be an interesting option so we started searching for the right place to shoot at.

After a couple of days going to restaurants, we went to a marvelous place a bit out of the city centre in Dublin called Cafe En Seine and we soon discovered that it was going to be our place as it had this extremely baroque decoration in the upper floor and we were going to have a lot of space to place the camera there too.

Hence, once we had the place, we started to see the different problems that we were going to have:
The restaurant was going to be open while filming and that is something terrible as she would have to deal with background noises and things that she might not want in her short – film.
We could only shoot for a very short span of time as the floor where we were going to shoot at had to be open to public around 6pm so we would have to finish shooting at 5pm and we were going to start around 10.30am / 11am.
As we wanted to have a lot of contrast in the image and a very dark areas I felt that the backgrounds were going to be really dark and as I love practicals I decided I wanted to place a visible single fluorescent in one background to help create the illusion of contrast and also for it to give me a bit of kick light.
This background was the guy's background and as he is the male of the story I wanted him to feel a tad rougher and mysterious than the girl who does not have that amount of light on her side and is treated gentler than the guy in terms of light.
We knew that we wanted to shoot with an aspect ratio of 1:2.40, however, the camera that we were going to use did not have 1:2.40 frames so we had to create them with a bit of cellotape and a pencil.
We were talking about shooting a 10 minutes short – film in around 6 hours hence I had to be quick and smart and I did not have to take a lot of time putting lights for each camera movement (which is what I had loved!)

To get the mood of the short – film we shot a couple of 35mm black and white rolls with different processes to see if we really liked black and white or if we wanted more density, or more grain, or less contrast, etc.. all those tests that a cinematographer loves shooting while in pre – production!

And we fell in love with four things, black and white, grain, contrast and how film rendered the high – lights so we decided that although the story was a comedy we were going to shoot it as if it were something a bit darker.

To shoot the whole short – film we said: let us be smart, shoot a master and then coverage in two sizes and that is all, you will have your short – film in time and you will have enough things to cut it with.

The whole shooting list is in the image below, not too long though!
The lighting equipment list was very short, as I said, I did not have a lot of time to put lights.
Lighting list
1 x Jem Ball
2 x 800w redhead
1 x Fluorescent tube
1 x Black silk 2.5meters by 2.5 meters
2 x Flags 1.5 meters by 1.5 meters
1 x White / Black polyboard
Open roll Cinegel #3402 Rosco N3
Open roll Cinegel #3403 Rosco N6
Open roll Cinegel #3404 Rosco N9
I would have loved to have Chimeras for the Redheads but we could not get them due to budget reasons, at the end of the day, this was kind of an experiment!
…On set…
As we did not have a lot of time I decided to go with the Jem Ball for an ambient light and use it to light the faces, which I was going to underexpose.
I wanted her face in the zone 4 with a gradient towards the zone 5 so the reading for the zone 4 was T2.8 and I wanted his face in the zone 3 towards the zone 4 so I adjusted the Jem Ball when shooting his scenes.

Seeing the images now it is my thought that if I had put a diffusion frame under the Jem Ball I would have gotten a better quality of the light and the gradient between the light and the shadow would have been a bit wider, next time!

I used the Red Heads for the three quarters kick light (T8 1/2), zone 7+, and then let the fluorescent explode (T22 1/2), zone 9+, I decided to go further with the fluorescent during the grading and I left it super over exposed.

I wish I had had the time to think twice about some things as nowadays I reckon I should have put a fill light in their faces in the close ups and a fill light and a rim light in the wide shot too to help separate them from the background more.

My T Stop was going to be T4 but I hesitated a bit and I put T4 1/2.
I like really dense blacks!, if I were going to shoot it today, I am sure I would put T2.8 2/3 or T4 though.

We shot on Fujifilm Eterna Vision 250D with Tungsten sources, mainly because it was the film stock I had, we wanted to push it 1 stop to get more grain and also because I feel that tungsten lights look less artificial, I also exposed at 500ASA because I wanted to see the effect of not having that extra thing that you get exposing at 400ASA and I have to say that I will expose for 400ASA next time.

And here are some of the frames, click on them to see them better.

Frame 001
Frame 002
Frame 003
Frame 004
Frame 005
…Post production…
When we finished shooting, we sent the film stock from Dublin to London, to Cinelab London which took care of the negative from the beginning of the development to the end.

They really did a fantastic job and I cannot but recommending it as it is a superb lab!

We got a ftp address from where we were able to download the short – film (they sent us a HDD with the full project inside too) and once we got everything, we sent it to Mordisco Films a post – production company in Spain where one of the best colorist in Spain, Alberto Díaz, took care of it and delivered an amazing black and white image full of density and life.

And that is all!
I hope you enjoyed the reading!
Miguel Ángel
www.miguelangelvinas.com
_______________________________

Short – Film Details

Director: Natasha Waugh
Producer: Natasha Waugh for Fightback Films
Cinematographer: Miguel Angel Viñas
First Assistant Camera: Curtis Morris
Gaffer: Oisin Lowry
Spark: Michael Gilbert
Lab: Cinelab London
Camera Rental House: Filmbase Dublin
Lighting Rental House: Teach Solais
Color Grading: Al Díaz (Mordisco Films)