UPDATE: Premier Date announced, Wenesday 23rd May, 9pm Pavilion, Cork.
Twinkle Toes is egomotions latest offering, its a short about two girl's enduring friendship in times of darkness.
Starring Mary-Louise McCarthy, Clara Harte, James Murray & Frank Hurley.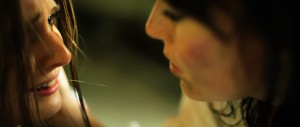 The film is a gruesome slasher horror, set in an abandoned church, where two childhood friends find themselves in a whirlpool of a situation, fleeing the scene of something terrible, how did they get to this point, what drove them so deep into this awful situation and what are they running from?
Twinkle toes began shooting in late September 2011, Where we shot the bulk of the film in a three day shoot on location at Our Lady's Hospital, Cork. The budget was on the minuscule size, as in – there wasn't one, and the challenge of some of the practical effects was more than we had ever tried to accomplish but we couldn't be happier with the results.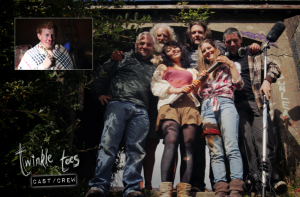 We had a really tight crew, featuring Jason Keane as D.P., Adrian Looney on Sound, Frank Hurley as producer and myself Dan, as director. Sean Breathnach also helped out and did a few stills for us while we toiled away. The remainder of the shoot wasn't completed until February of 2012 as it was hard to find two younger dancers who looked somewhat like our leading characters. We shot the scenes  in a large warehouse, currently being used as a circus space in Cork City Centre.
The next challenge that faced us was the overwhelming edit, as the film is deliberately a fractured timeline the edit was a huge challenge, We know we had all the right pieces to the jigsaw but it was a matter of how to best fit them together to get the most bang for our buck. Finally the film edit was locked down in March 2012, and so the sound and grading began, the film is now finally ready ( besides a few tweaks here and there ;D ) to be screened, which we are working hard to organize and Twinkle toes will be coming soon to a screen near you…
Dan