Final Cut Studio 3 Announced!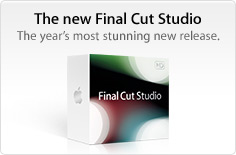 Apple updates Final Cut Studio with more than 100 new features
Apple today announced a significant update to Final Cut Studio, offering more than 100 new features and new versions of Final Cut Pro, Motion, Soundtrack Pro, Color, and Compressor. Final Cut Pro 7 expands Apple's ProRes codec family to support virtually any workflow and includes Easy Export for one step output to a variety of formats. At €999, the new Final Cut Studio is €300 less than the previous release and is also available as an upgrade for just €299.